2012 Chevrolet Cruze Summary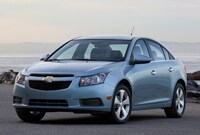 The Chevrolet Cruze is among the best of the compacts. Measured by features, mileage and ride-handling balance, or interior noise, space and quality, the Cruze matches or beats the best. It falls off a bit in power or engine performance, and it gets pricey at the high end of the model range. The Cruze LS and Cruze LT offer the best value.
J.P Vettraino filed this report from Detroit; John F. Katz reported from south-central Pennsylvania.